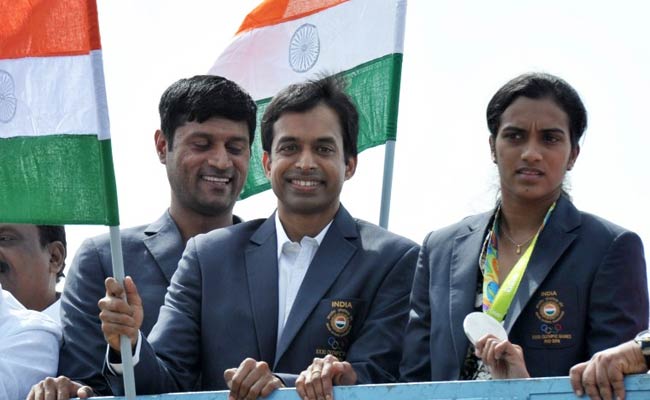 HIGHLIGHTS
Andhra Pradesh has announced a 3-crore reward to PV Sindhu.
In Hyderabad, celebrations were largely led by Telangana government.
Andhra Pradesh government has planned a similar victory ride.
HYDERABAD: There was one champion and two states. So politicians from Telangana and Andhra Pradesh competed to welcome Olympic Silver medalist PV Sindhu who returned home to Hyderabad today.
It meant big cash rewards – Andhra Pradesh has announced a 3-crore reward, so Telangana will give 5 crore – and job offers from both states. Also gaffes.
Like when an excited Deputy Chief Minister of Telangana, Mehmood Ali, eager to top anything that Andhra Pradesh could offer the 21-year-old, said as he waited at the airport this morning, "We are planning to give Sindhu proper coaching with foreign coach so that she can fetch the Gold next time."
Ms Sindhu's star coach Pullela Gopichand – celebrated for his A-grade training that has given India two Olympic medalists in her and Saina Nehwal – politely thanked both states but also pointedly said at a packed press conference that the controversy was needless as "Sindhu belongs to India."
Ms Sindhu's parents, both former volley ball players, sought to gently underscore the point. "I am happy that both states call her their daughter," said her father PV Ramana, who is from Telangana.
Her mother, P Vijaya, who belongs to Andhra Pradesh, added, "No doubt she is a Telugu speaking girl of both the states, but first she is a daughter of India."
In Hyderabad today, celebrations were largely led by the Telangana government which had a special double decker bus brought from Mumbai for Ms Sindhu's victory ride to the stadium. One again a jarring presence was Telangana transport minister Mahendar Reddy on the open air bus carrying Ms Sindhu and Mr Gopi. Thousands lined the route showering Ms Sindhu with flower petals. At the stadium, there was song and dance and sloganeering.
Ms Sindhu and her coach will now head to Vijaywada, where the Andhra Pradesh government has planned a similar victory ride from the airport to a stadium. They promise it will be glitzier than the welcome in Hyderabad with one lakh people in the rally.
Fortunately for the exhausted star duo, who traveled 33 hours from Brazil last night, Vijaywada is only tomorrow. Very early in the morning though, after what will be a long day today, ending with a late evening meeting with Telangana chief minister K Chandrashekar Rao and governor ESL Narasimhan.
[Source  NDTV]