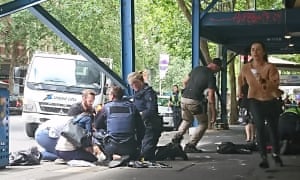 Three people have been killed, including a young child, and at least 15 injured after a car drove into pedestrians in Bourke Street, one of the busiest areas in Melbourne's central business district.
Victoria police confirmed on Friday afternoon the victims were a young child and a man and a woman, both in their 30s. None of the dead were believed to be related.
Victorian police commissioner Graham Ashton said the death toll could rise, as five of the injured were listed as critical, including a child whose pram could be seen lying on the road amid the carnage.
The Royal Children's hospital said earlier it was treating five casualties, including a two-year-old who was in intensive care and a three-month-old who was undergoing an operation. Figures released by several other Melbourne hospitals put the total number of injured at 25, but in an afternoon media conference Ashton said he knew of 15 injured.
A 26-year-old man was taken into custody with non life-threatening injuries after police rammed his car and fired several shots. Police said the events had no connection with terrorism and the suspect, who was well known to them, had mental health and drug issues.
The chaos began when the man, driving a maroon Commodore, stopped traffic by doing burnouts outside Flinders Street station about 1.30pm local time. He then drove up Swanston Street, turned left down Bourke Street mall and began mowing down pedestrians, police said.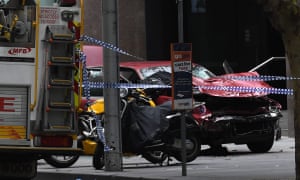 The former Victorian police chief commissioner Christine Nixon was crossing the road when the car raced by and had to step out of the way. Nixon said she saw a pram on the ground and helped the mother.
"She kept asking me 'where's the baby'," Nixon told ABC radio.