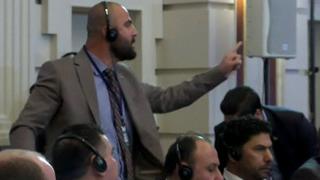 Major powers backing opposing sides in the war in Syria have signed a pact on creating "safe zones", despite rebel delegates storming out of the ceremony at talks in Kazakhstan in protest.
Syrian allies Russia and Iran, and Turkey, which supports rebel groups, signed up to a Russian plan to set up four "de-escalation zones".
The rebels only rejoined the talks on Thursday after a day's boycott.
The talks, in Astana, are meant to shore up an oft-violated ceasefire.
A partial cessation of hostilities was declared at the end of last year, but violence has continued on several fronts.
Under the Russia plan, safe zones would be established in rebel-held territory in the north-western province of Idlib, in parts of Homs province in the centre, in the south and in the opposition enclave of Eastern Ghouta near Damascus, the AFP news agency reported.
They would be surrounded by checkpoints manned by rebels and government troops, and foreign troops could also be deployed in observer roles, according to AFP.
Russian President Vladimir Putin said earlier that Syrian and Russian warplanes would also stop their bombing in the safe zones if opposition groups halt attacks there.
The arrangement would allow for the return of refugees and the delivery of aid.
'Positive step'
As the three guarantors were invited to sign the document, rebel delegates angrily shouted that they did not accept it and walked out. The Syrian government is not a signatory either, though state news agency Sana said Damascus supports the plan.
UN Special Envoy for Syria Staffan de Mistura, who joined the talks on Thursday, praised the agreement.
"Today in Astana I think we have been able to witness an important promising positive step in the right direction in the process of de-escalation of the conflict," he told reporters, Reuters news agency said.
Russian news agency RIA said a working group would meet in the next five days to decide how to implement the safe zones.
The rebels had earlier suspended participation in the Astana talks demanding a commitment by Russia and Syria to stop air strikes. They rejoined the talks on Thursday, saying they had received "new guarantees", without giving more detail.
The talks in Astana, involving armed rebel groups, have been taking place in parallel to on-off negotiations in Geneva involving political opposition.
Those talks are focused on trying to reach a framework for ending the war, which has claimed more than 300,000 lives since it erupted in 2011.
The Geneva talks are expected to resume later this month, while another meeting will be held in Astana in mid-July.
["Source-bbc"]