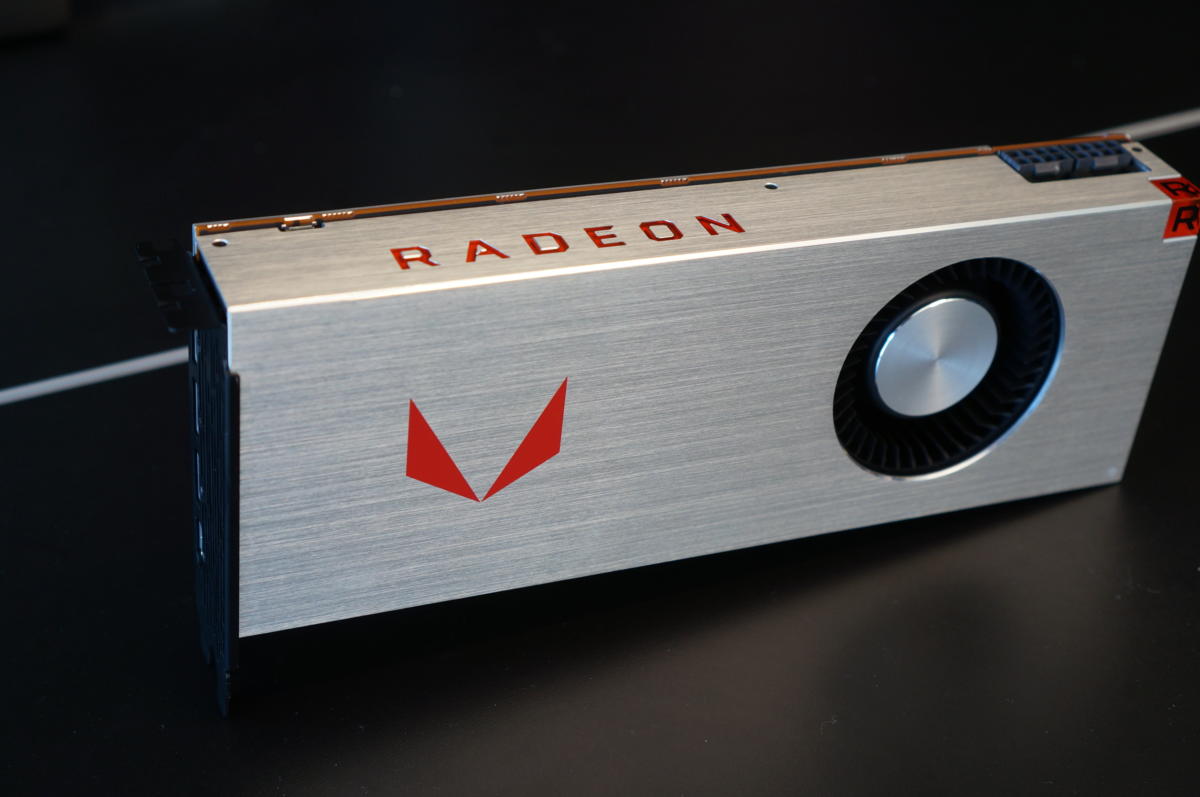 AMD is launching Radeon RX Vega on August 14 with an unusual new "Radeon Pack" system designed to get you all-in on the AMD ecosystem—and ostensibly combat mining-induced graphics card shortages.
TABLE OF CONTENTS
Meet RX Vega Radeon Packs
RX Vega Radeon Pack: Read the fine print
High-end hardware blues
Meet RX Vega Radeon Packs
While AMD's selling most RX Vega cards by their lonesome at standard prices, you can also grab the hardware by spending another $100 for a "Radeon Pack" version. The Radeon RX Vega 64 is available for $499 standalone or for $599 in the "Radeon Black Pack," for example, while the liquid-cooled version of the card will only be available as part of the $699 "Radeon Aqua Pack." Interesting. The cut-down Radeon RX Vega 56 retails for $399, but it'll also be available for $499 in the "Radeon Red Pack."
Spending that extra cash gets you numerous goodies and discounts. Right off the bat, you'll get two "free" games for your $100, worth $120 at retail. AMD is pitching bundles with Prey and Wolfenstein II: The New Colossus after partnering with Bethesda, but says the exact titles can vary by region. More on that later in the fine print section.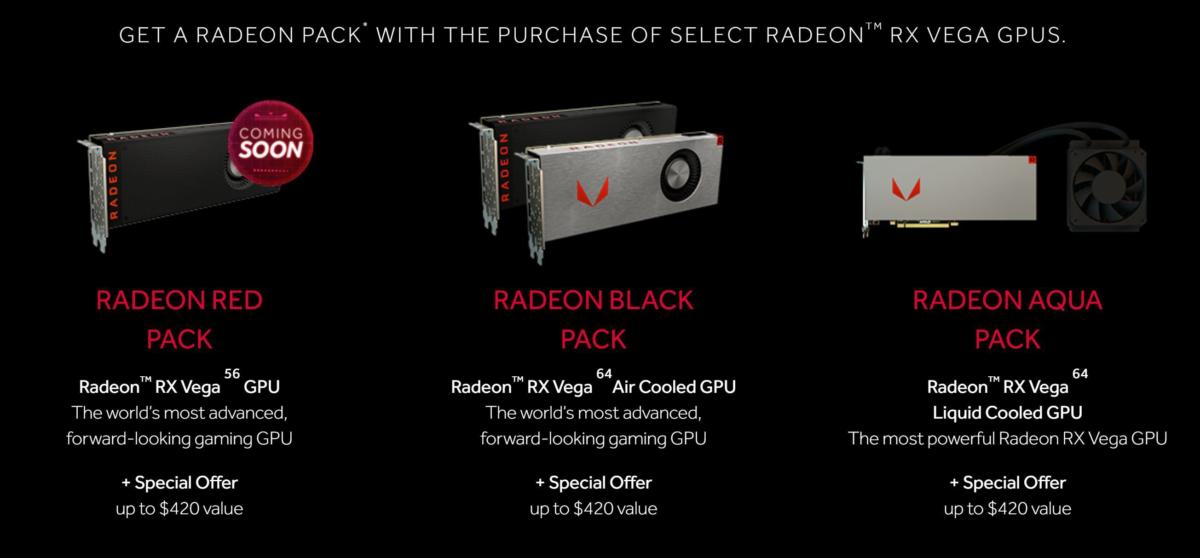 The rest of the Radeon Pack perks are optional. If you buy a $350 Ryzen 7 1700X or $420 Ryzen 7 1800X processor with one of three high-end motherboards—the unreleased Asus ROG Crosshair VI Extreme X370, the $210 Gigabyte GA-AX370-Gaming K7, or the $260 MSI X370 XPower Gaming Titanium—you'll get $100 off the combo.  You'll also receive a $200 discount if you choose to buy the $950 Samsung CF791, a gorgeous curved 34-inch FreeSync monitor with a 3440×1440 resolution, 100Hz refresh rates, and quantum dot tech.
It's a decent offering… if you plan to build a high-end Ryzen gaming rig from the ground up, want to play those specific games, and are willing to spend $750 (more than the cost of Vega itself!) on a monitor. If you're not interested in the monitor, or at least the games andthe Ryzen combo, you're not really saving any money after the Radeon Pack's $100 upcharge. And to get every deal in the RX Vega 64's Radeon Black Pack, you'd need to spend at least $1,810 in total—after the applicable discounts.
RX Vega Radeon Pack: Read the fine print
The full Radeon Packs are only available in the U.S., Canada, Australia, and Singapore. Buyers anywhere else in the world won't receive the discount on the swanky FreeSync monitor, making the bundles even less appealing. People in Germany, Austria, or Switzerland will receive Sniper Elite 4 rather than Wolfenstein II.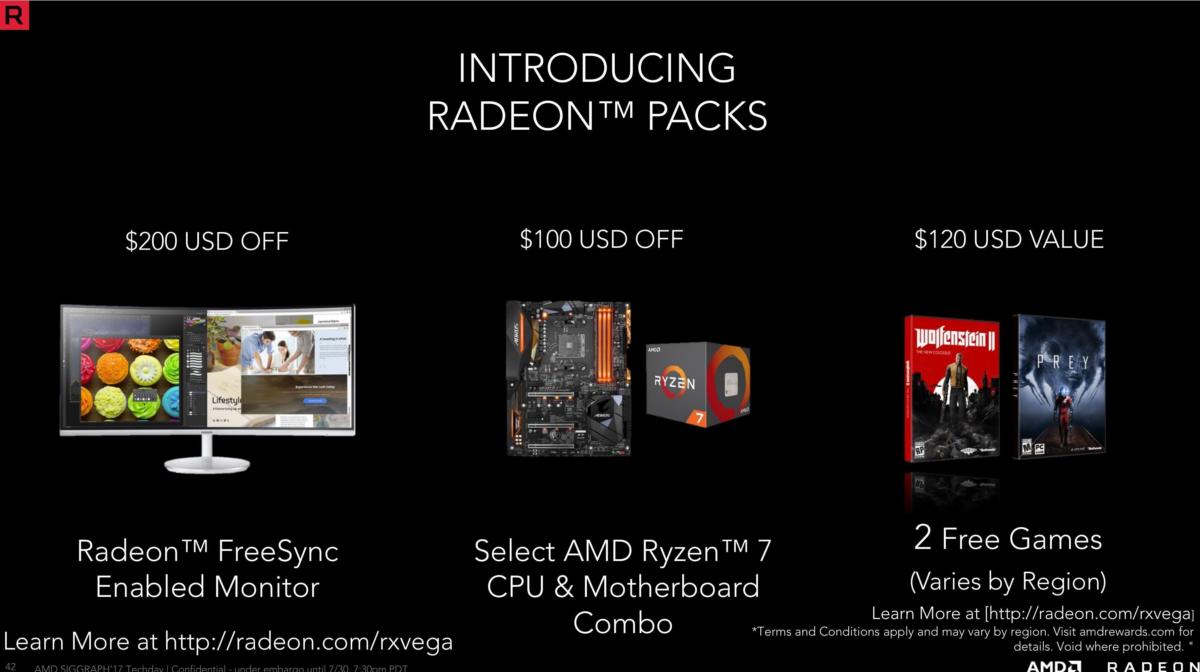 [Source"cnbc"]