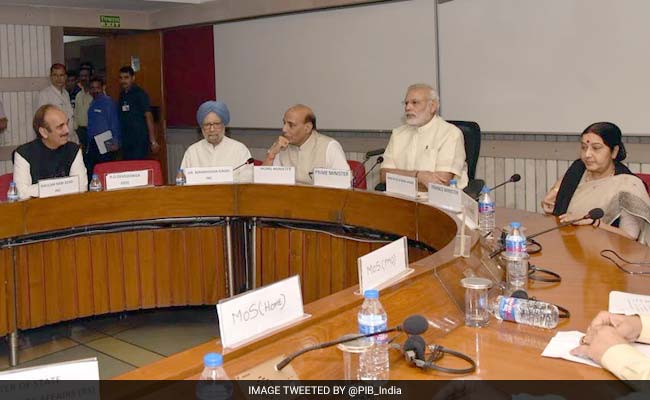 NEW DELHI: 
"Pakistan Occupied Kashmir is ours",
Prime Minister Narendra Modi asserted at a four-hour meeting
of all major political parties today, stating that dialogue must be initiated with expatriates all over the world from that region.
"There cannot be any compromise on national security, but we have to win the confidence of the people in Jammu and Kashmir," the Prime Minister said.
PM Modi blamed cross-border terrorism for the unrest in Kashmir and said Pakistan must also be exposed globally for atrocities in PoK and Balochistan.
He said the "foreign ministry should get in touch with expats from PoK living in various parts of the world, gather information from them on the pitiable condition in the region and let the global community know about it."
Today's meeting was called to find a political solution to the crisis in Kashmir, where over 50 people have been killed in clashes between protesters and security forces and more than 5000 have been injured since July 8 when violent protests erupted over the killing of Hizbul Mujahideen terrorist Burhan Wani.
The opposition said today that it backed the government in its attempt to restore peace in the Valley, but demanded that immediate confidence building measures be initiated like discontinuing the use of pellet guns to curb protests. In the recent protests at least 100 people have been blinded by pellets fired by security forces and many others are injured.
Opposition leaders also suggested that discussions be held with all groups, including separatists, and that the AFSPA or the Armed Forces (Special Powers) Act, which grants special powers to the Army, be lifted from civilian areas, which the government said conditions might not be conducive for at this time.
Former Prime Minister Manmohan Singh spoke first for the Congress, saying the "Centre must show it is a caring government."
The government has said it would consider all of the suggestions made by the opposition, including sending an all-party delegation to Kashmir after the situation on the ground improves.
"We will be satisfied only when the ground situation improves and the government takes steps," said the Congress's Ghulam Nabi Azad, who had criticised PM Modi for making his first comments on the Kashmir crisis at a rally in Madhya Pradesh and not in parliament.
[Source  NDTV]