"Autumn is coming". No, the Starks have not gone soft, this is a teaser from OnePlus regarding the new color of the OnePlus 5. Originally, it leaked as just Gold, but it could be more nuanced than that – "autumn gold" refers to the many hues that leaves take on as summer ends and autumn comes to town.
There's a competing theory based on info from TENAA – the Chinese authority mentioned "Mint Gold" on its website. Now, we're no herbalists by all means, but the leaf in the teaser image does kind of look like Mint.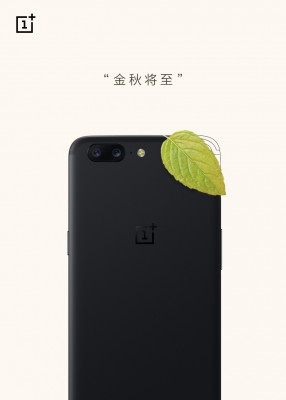 OnePlus 5: Autumn is coming (… and brings mint?)
Still, that's an odd color, isn't it? Rose Gold is fairly popular in jewelry but a green/yellow combo is decidedly uncommon. We're always happy to see phone makers try something new with color schemes, so we can't wait to taste what OnePlus has in store.
[Source"cnbc"]