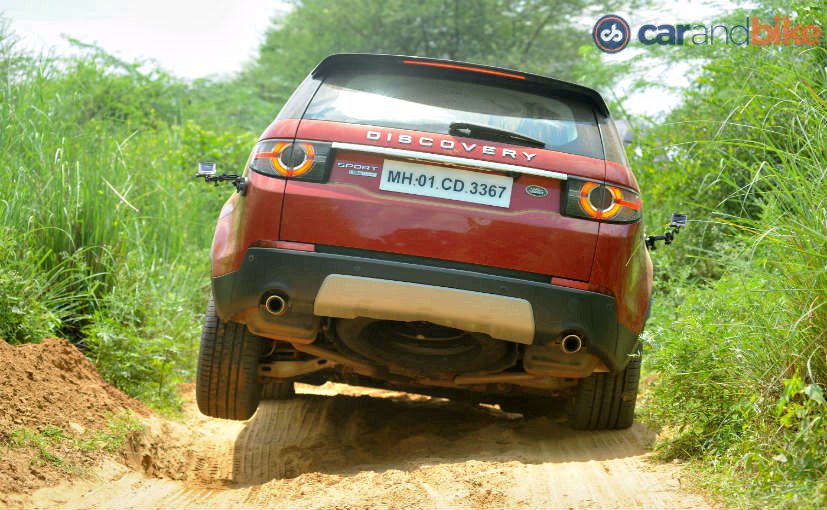 STORY HIGHLIGHTS
Land Rover equips its SUV with the capable Terrain Management System
The Discovery Sport also gets Hill Descent Control & Hill Start Assist
The Discovery Sport can wade water depths up to an impressive 600mm
When someone buys an SUV for 50+ lakh or so, it can be understandable if the poor SUV never dipped its wheels into a slush pool, went dune bashing, crawled over boulders the size of a helmet or bigger and so on and so forth. This is where Land Rover along with Cougar Motorsports loves to tell Land Rover owners, prospective customers and us journalists that these vehicles are far more capable than we can give them credit for. Land Rover had invited us for its Land Rover Experience near Damdama Lake, 20 odd kilometres ahead of Faridabad. A quick briefing and a cup of coffee later off we went on our off-road experience. While it definitely wasn't hardcore off-roading, we would be dead wrong to say that all of it was a cakewalk.

The gravelly incline in front of me looked like tough customer. "It's easy peasy. All you need to do is put in the right throttle inputs". The Grass/Snow/Gravel programme was selected on the Land Rover Discovery Sport in its Terrain Response System and off we went. In the space of a couple of breaths, the Disco Sport was atop the incline, making me feel like a hero. The instructor sitting with us was almost saddened by the absence of rain. "Had it rained, the track would have become even more challenging and you would have known the true capabilities of this baby.

Nevertheless, we went further and found the track peppered with crater sized holes. As we inched forward, the Disco Sport and its gazillion electronics made light work of this as well. For the next 20 metres, one of the wheels on the SUV was in the air. The Terrain Response system simply locked individual wheels and sent the power to the wheels still in touch with the terrain to ensure that there was no loss of drive.

Up next was a climb again, steeper with loose mud and zero grip of course. The Mud and Ruts programme was selected and off we went. There wasn't an iota of fuss and the Disco Sport went up almost balking at the idea of doing things as silly as these. And at that very moment, realisation dawned upon me. These SUVs being driven on tarmac are akin to caged beasts. Whatever little doubts I had of these being off-roaders just about, was dispelled with great ferocity. The rest of the track was done with innate ease. Land Rovers SUVs are so technologically advanced that they make even duds look like fantastic off-road drivers.

A quick fact check! The Disco Sport we were driving was the top of the line HSE Luxury model. It was powered by a 2.2-litre Diesel engine that churned out 190bhp and 420Nm of torque. The angle of approach and departure are 25 degrees and 31 degrees respectively. With a ground clearance of 212mm and a ramp breakover angle of 21 degrees, there is absolutely nothing that can stop the Disco Sport from going forward. It can happily wade through 600mm of water and the Terrain Response System, Land Rover's proprietary off-road management system adjusts the response of the engine and the brakes suited to the programme selected. There are 4 programmes namely, General, Sand, Mud and Ruts and Grass/Gravel/Snow which can be selected on the fly. Adding to that are the Hill Descent Control and Hill Start Assist which make life easier when going up or down a slope, no matter how steep it is.

At the end of it all, I could only think that sheer stupidity that is when you confine these capable SUVs to the roads. Once in a while it is completely all right to head out into the unknown and take these Land Rover SUVs where they can surprise you with their unmatched off-road ability. Take our word for it, you will have the time of your life.
[Source  NDTV]