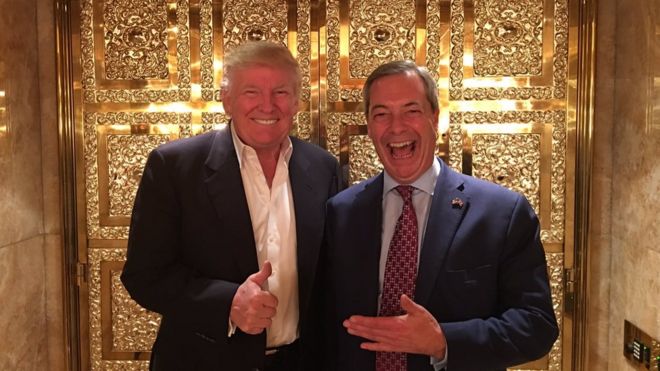 Nigel Farage has become the first British politician to meet Donald Trump since he became US president-elect.
A UKIP spokesman said the interim party leader discussed "freedom and winning" with Mr Trump on a visit to Trump Tower in New York.
Mr Trump's spokeswoman Kellyanne Conway said the meeting had been "very productive".
Downing Street said Mr Farage had "no role" in the government's relationship with the incoming US administration.
Speaking after the meeting, Mr Farage said: "It was a great honour to spend time with Donald Trump. He was relaxed, and full of good ideas.
"I'm confident he will be a good president. His support for the US-UK relationship is very strong. This is a man with whom we can do business."
---
Analysis
By Iain Watson, political correspondent
UKIP sources told me that Nigel Farage has made the prime minister look "very foolish". And on the surface it is embarrassing.
Theresa May will not be meeting the president-elect until next year – yet a UK opposition politician has already popped in for a chat.
But Downing Street say they are relaxed about it; that Mrs May has already spoken to Mr Trump by telephone and there will be no role – formal or otherwise – for Mr Farage as a "go-between" with the new US administration.
Yet there are political dangers for the prime minister. Mrs May certainly will not be welcoming this opportunity for UKIP to bask in the reflected glory of a Trump victory.
People were asking what was the point of the party after the Brexit referendum – so the prime minister really will not want them resurrected as the "British Trumps"- the voice of forgotten voters.
She will have to renew efforts to claim that mantle for herself.
---
Mr Farage asked Mr Trump to return a bust of Sir Winston Churchill to the White House Oval Office, a party spokesman said.
Mr Farage said he had been "especially pleased" by Mr Trump's "very positive reaction" to the idea of the bust returning.
Ms Conway said the two men "enjoy each other's company and they had the opportunity to talk about freedom and winning and what all this means for the world".
A UKIP source said the meeting had "made the prime minister look very foolish".
Mr Farage earlier told US media that Mrs May's team had been "quite rude" about Mr Trump, "so there are some fences to be mended".
"Trump is an Anglophile, he understands and recognises what our two great nations have done together between us," he told Fox News.
"And, thank goodness, we are coming towards the end of an American president who loathed Britain.
"One of the things we can do, we can have between us a sensible trade relationship, cut tariffs, we are massive investors in each other's countries. There's a bright future."
'Implausible'
When asked ahead of the meeting if Mr Trump had invited him, Mr Farage joked to reporters: "We're just tourists."
Mrs May plans to visit Mr Trump in the first three months of next year after his inauguration.
Crispin Blunt, chairman of the foreign affairs select committee, described as "completely implausible" the idea that Mr Farage would have an ambassadorial role in a Trump administration , telling the BBC there was "no need for Nigel".
Labour leader Jeremy Corbyn said he understood the appeal of Mr Trump's rhetoric to people angry at being left "left behind" by globalisation but he said the president-elect needed to "grow up" when it came to his views on immigration.
Mr Corbyn, whose wife is Mexican, said the US economy was reliant on migrant labour and plans to build a wall on the border had caused "anger and outrage".
"I think the treatment of Mexico by the US, just as much as the absurd, abusive language to Muslims, is something that should be challenged and has to be challenged," he told the BBC's Andrew Marr show.
UKIP and other right-wing parties did not have the answer to increasing economic marginalisation and inequality, he said.
[Source:-BBC]